Introduction
History
List & map
Bibliography

Camembert
Neufchâtel
Livarot
Pont-L'évêque

Carré de Bray
Pavé d'Auge

Bricquebec
La Bouille & Mr Fromage
Boursin
Coutances
Fin de siècle
Excelsior & Brillat-Savarin
Petit-Suisse

Other cheeses



The coutances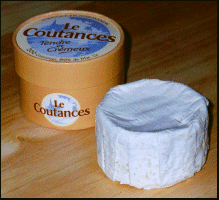 A coutances
Description
Type
Double-creme
Milk
Cow. Pasteurised milk.
Aspect
Cylinder (7,5 cm of diametre, 4,5cm thick).
200 gr.
60% of fat.
Thin white down rind
Region
Coutances - Manche.
History
This modern cheese has the same name as the beautiful town of Coutances (in the Manche department). It is produced by the "Compagnie des Fromages" and is sold in a brown cardboard box that recalls the traditional wood boxes.