Introduction
History
List & map
Bibliography

Camembert
Neufchâtel
Livarot
Pont-L'évêque

Carré de Bray
Pavé d'Auge

Bricquebec
La Bouille & Mr Fromage
Boursin
Coutances
Fin de siècle
Excelsior & Brillat-Savarin
Petit-Suisse

Other cheeses



The pavé d'Auge
Pavé du Plessis, Pavé de Moyaux, (Pavé de) Trouville.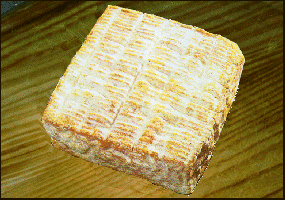 A pavé d'Auge
Description
Type
Washed rind cheese
Milk
Cow. Whole milk.
Aspect
Square of 12 cm and 6cm thick.
50% of fat.
Region
Canton de Moyaux. North of the Auge country.
History
The pavé d'Auge is an old variation of the Pont-L'Evêque,and it is nowadays a generic name used for the washed rind square cheeses that are produced in the north of theAuge country.
It can also be called "pavé de Moyaux" (the name of a country side), "pavé du Plessis" (the name of a dairy),or "Trouville" (the name of a small town by the sea).
Its making is close to the Pont-L'Evêque one and it generally goes through a long maturing period (2 to 4 months) and its taste is rather strong.
Variations
Some producers sell mini (small) "pavé d'Auge".