Introduction
History
List & map
Bibliography

Camembert
Neufchâtel
Livarot
Pont-L'évêque

Carré de Bray
Pavé d'Auge

Bricquebec
La Bouille & Mr Fromage
Boursin
Coutances
Fin de siècle
Excelsior & Brillat-Savarin
Petit-Suisse

Other cheeses



The petit-suisse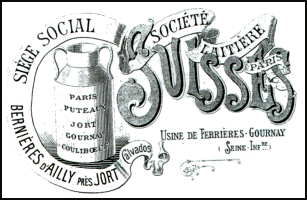 Old label
Description
Type
Fresh unripened cheese
Milk
Cow
Aspect
Cylinder (3 cm diametre, 4 cm thick).
30 gr / 40 % of fat
Region
Neufchâtel - Now everywhere
History
Genrally because of its name, one thinks that the petit-suisse was created in switzerland . In fact, it was born in Normandy, but its father came from switzerland. In the 1850 's, a swiss employee in a dairy of Auvilliers (near Beauvais) suggested to Mrs Hérould, the owner of the dairy, to add cream to the pastry used to produce bondons.
Charles Gervais, whose society was well-known for its double cremes, saw immediatly the interest of that product and made the petit suisse one of the most important product of its society. It also created a really efficient distribution system, especially to deliver quickly its products to Paris, first by using horse drawn vehicle and later by trucks. The "petit-suisse" also benefits of the know-how of the Pommel society, the Gervais society rival and neighbour at the beginning of the XXth century.
At start the "petits suisses" were sold wrapped in a thin band of paper and placed six by six in a small wood crate.
Making
Add cream in the curd.
Smoothing and drain off done by a separator
Variations
There a giant version of the "petit-suisse", called the "suisse double" or "double suisse" (double swiss)